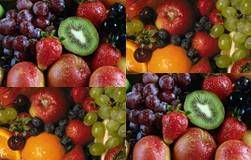 Went to the local Farmer's Market this morning. My God I love that place! Yesterday I didn't have lick of nausea, so I was really eager to go to the Market and even got excited. (It's been hard to go grocery shopping when I'm sick) I got lots of fresh fruit. Bananas, a huge flat of strawberries, blueberries, raspberries, oranges, avacados, apples. I got some soft tofu too, so I see some fresh smoothies with added protein in my future. I also got the coveted hummus that the market makes. I love that stuff! I ate that with some carrots and blue corn chips for lunch. So did Amelia. We just camped out on the couch and devoured it. LOL
I made it to Total Body yesterday. I was sooooooo disappointed to see a sub. And not only a sub, but THIS sub. I swear I don't know why she subs. She's sweet and I'm sure she's a great person, but she's not a good instructor. The class was supposed to be an hour and by the time we were done with cardio and doing abs it had only been 35 mins. Every class I've been to that she's subbed in has been like this. The real instructor (my fav evah!) is gone on her wedding and honeymoon. So I suppose I can have some grace for it, but it was the first time I was up for Total Body in a LONG time. Anyway, pushed myself and worked up a good sweat. :)
I got on the scale (I know) and it read 147.5 lbs. *deep breaths* I think despite my efforts (which in all honesty has not been the best) I've still managed to put on some weight. Oh well. Yesterday was the first time I felt the fog lift and didn't feel nausea until 11pm. So maybe I'm turning a corner. I'm 10 weeks. My goal is to eat Core foods and use my 35 Flex to eat any non Core. ANd now that I don't feel pukey, I think that it will be much more realistic to follow through.
Here's today's tracker. I have dinner planned too!
Breakfast:
Steal Cut Oatmeal with a little SF syrup
Mocha: 1 pt of flex
Lunch:
Hummus: 1 pts for oil
carrots
Blue corn chips: 3 pts
Snack:
Tofu smoothie
Dinner:
Grilled chicken
broccoli
baked potato
5 Flex used.
Planning to earn 3 APs. So I'll only have to count 2 Flexies.